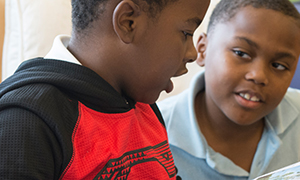 The Commission is a public body composed of engaged residents and representatives from government agencies to support equitable access to high-quality OST programs for District of Columbia youth through coordination among government agencies, targeted grant-making, data collection and evaluation, and the provision of training, capacity building and technical assistance to OST providers. The Commission will provide resources and support to ensure a citywide system of high-quality OST programs.
The Commission shall consist of no more than 21 members who represent key community stakeholder constituencies or are District agency administrative heads or their designees. The Commission members are:
Margot Berkey, Specialist, Out of School Time Programs, District of Columbia Public Schools (DCPS)
Tacharna Crump, Executive Director, Youth Entrepreneur Institute
Marcus Coates, Chief, Community Recreation, Department of Parks and Recreation
Mat Hanson, Chief of Staff, DC Action for Children, Director of Strategic Initiatives, Office of the Deputy Mayor for Education
Gary Hill, Executive Director, Exodus Treatment Center, Inc.
Kierra Jenkins, Intergovernmental Relations Coordinator, DC Public Charter School Board
LeKisha Jordan, Senior Policy Advisor, Office of Chairman Phil Mendelson
Walter Peacock, Data Specialist Department of Insurance Securities & Banking, Bank on DC
Heather Peeler, President and CEO, ACT for Alexandria
Kelly Rudd Safran, Director of Special Populations and Programs
Margaret Siegel, Consultant, Marpat Foundation
Kenneth Taylor, Senior Quality Control Management Analyst, U.S. Department of Education
Hillary Desir, Special Projects Manager, Office of the Deputy Mayor for Education
Dr. Shontia Lowe, Executive Director, Office of Out of School Time Grants and Youth Outcomes (ex-officio)
Vision
All youth across the District of Columbia have the skills, attitudes, and knowledge necessary to achieve and thrive in school, the workplace, and their communities.
Values
Youth Voice: Youth contribute directly to decisions that impact their lives.
Equity: Decisions are made recognizing structural racism with a determined focus on dismantling those systems and achieving equitable outcomes for youth.
Commitment to Learning: Continuous improvement and learning leads to stronger and more effective systems, organizations, and programs.
Mutual Respect and Responsibilities: Respecting the unique insights, resources and contributions of all stakeholders leads to the realization of a collective vision.
Strategic Priorities

Over the next three years, the Commission and the OST Office will focus on the following four strategic priorities to achieve our vision. Each strategic priority must remain anchored in our values of youth voice, equity, commitment to learning, and mutual respect and responsibilities.
Funding and Capacity Building: The OST Commission prioritizes closing the gap in OST program capacity; this is achieved when all Washington, DC youth have equitable access to diverse, high-quality programs in locations convenient to them. The Commission will support Learn24 in closing the gap in OST program capacity by guiding the OST Office in its mission to provide financial, technical, and educational resources to a wide range of OST providers, large and small, who have established trust with their communities and have experience meeting the needs of their communities.
Quality: High-quality programs engage youth in the authentic expression of voice and choice by providing safe and supportive environments, caring adults, and structured activities. The Commission prioritizes ensuring that all Washington, DC youth have equitable access to high-quality OST programs. The Commission will set guidelines for the OST Office on how to define, measure, assess, and increase program quality.
Outcomes: Outcomes are the strides the Commission expects youth will make through participation in OST programs. Outcomes must evolve with young people as they grow physically, socially, emotionally, and cognitively. The Commission prioritizes supporting Learn24 in ensuring that all D.C. youth have access to programs that allow them to achieve outcomes. The Commission will guide the OST Office on how to define, measure, and assess outcomes.
Coordination and Collaboration: To build a strong and sustainable system that supports high-quality OST programs, the OST Office will rely on the help and input of youth, families, OST providers, experts, and government agencies. To achieve this goal, the Commission will encourage connection among various stakeholders including: the OST Office, District of Columbia government agencies, non-profit entities, parents, and youth.
Download the Strategic Plan below.
---
2023-2026 OST Draft Strategic Plan
The OST Office and The OST Commission value the feedback from the community on the upcoming 2023-2026 Draft OST Strategic Plan. Stakeholders are invited to review the strategic plan and provide comments/feedback here no later than Wednesday, August 16th, 2023 at 5:00 pm. View the draft strategic plan here.
For additional questions, or concerns please email [email protected].