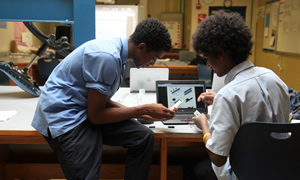 The Institute for Youth Development provides quality training for all adults who work with children and youth in Out of School Time (OST) programs. These adults are also called youth development practitioners. Youth development practitioners deepen their understanding of positive youth development, engage in best practices and improve services to youth.
Trainings are available for every level from front-line staff to program managers to executive directors. Download the training descriptions below.
Save the Date: January 22, 2019 - Learn24 Network Event - A Convening to Support DC OST Programs
The Office of Out of School Time Grants and Youth Outcomes (OST Office), and the University of the District of Columbia, Center for 4-H Youth Development invite Out-of-School-Time (OST) professionals from across the District to the "Learn24 Network Event - A Convening to Support DC OST Programs." The network convening event will host a variety of vendor companies and organizations that support and provide resources to OST programs that enhance the enrichment opportunities available for youth and families in all Wards of the District of Columbia. Professionals that serve children and youth in the District are encouraged to attend, to network with colleagues, and hear about the plethora of resources that are available to benefit youth served.
Organiztions seeking to exhibit at the convening should complete this brief vendor application form. The OST Office invites vendors and organizations that provide free or low-cost services or resources to OST Programs to exhibit at the Learn24 Network Convening.
Vendors interested in exhibiting should complete this brief questionnaire by January 9, 2019.
OST professionals seeking to attend should register here.
Learn24 First Friday Learning Series: Preventing & Addressing Harm: Restorative Practices for Youth Development Practitioners - February 1, 2019
Workshop Description:
As schools and youth development programs in the District - and across the country - begin adopting restorative practices, it is a critical moment for those who work with young people to understand how restorative justice works and what tools it offers us.
In this workshop we will explore restorative justice as a philosophy and discuss how it differs from the kind of traditional discipline that is often employed with youth. Participants will learn about various restorative practices that can be easily implemented in out-of-school time (OST) settings. This includes tools like community building circles that help prevent conflict as well as tools like restorative conversations that can be used after an incidence of harm. Participants will have an opportunity to experience and practice these tools together and brainstorm ways each participant can integrate restorative justice and restorative practices into their specific OST program.
Objectives:
Understand the core principles of restorative justice and be able to identify how it compares to traditional discipline and retributive justice.
Be equipped with restorative practices to prevent and address harm among youth and build skills required for these practices.
Work on plans for integrating restorative justice and practices in OST programs.
Register Here!
Cypherworx
Need training on your own time and pace. Through a partnership with Cypherworx, Learn24 has an online platform for learning. Click here to register and sign-up.
Contact: We encourage all to Learn24! Email us for more information.