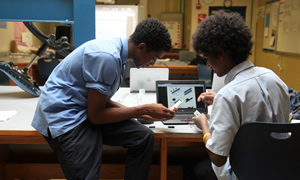 The Institute for Youth Development provides quality training for all adults who work with children and youth in Out of School Time (OST) programs. These adults are also called youth development practitioners. Youth development practitioners deepen their understanding of positive youth development, engage in best practices and improve services to youth.
Trainings are available for every level from front-line staff to program managers to executive directors. Download the training descriptions below.
Learn24 Network Conference: October 5, 2018
Registration is now available for the Fall 2018 Learn24 Network Conference! The Learn24 network invites frontline staff, managers, program directors and other OST practitioners to participate in this free one-day conference designed to engage, inform and inspire professionals working in out-of-school-time (OST) programs throughout the District of Columbia. Keynote speaker Larry Bell is nationally known for providing strategies to help students increase academic performance and staff support students. Attendees will learn best practices, innovative strategies, lessons learned and more to help improve outcomes beyond the school day for District of Columbia youth.
Space is limited. Register today!
Benefits of Attending
Networking opportunities
Thought provoking and passionate presenters
A dozen high-energy breakout sessions
Local presenters sharing their knowledge
Learn24 Workshops
Find and register for Learn24 training opportunities throughout the year on Eventbrite by clicking here.
Cypherworx
Need training on your own time and pace. Through a partnership with Cypherworx, Learn24 has an online platform for learning. Click here to register and sign-up.
Contact: We encourage all to Learn24! Email us for more information.