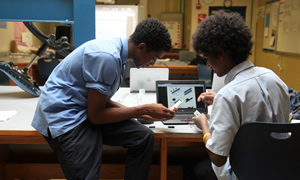 The Institute for Youth Development provides quality training for all adults who work with children and youth in Out of School Time (OST) programs. These adults are also called youth development practitioners. Youth development practitioners deepen their understanding of positive youth development, engage in best practices and improve services to youth.
Trainings are available for every level from front-line staff to program managers to executive directors. Download the training descriptions here.
Request a training here!
Contact: We encourage all to Learn24! Email us for more information.
---
October 11, 2019 - Fall Learn24 Conference
9:00 am - 3:00 pm
UDC Student Center
4200 Connecticut Avenue NW
Washington, DC 20008
FallLearn24Conference.Eventbrite.com
Join Learn24 for a day of learning and reflecting featuring keynote speaker Michael Lamb, Executive Director of Turnaround for Children DC. This conference will provide practical information and resources that youth development professionals can use to enhance the daily interactions between youth and adults.
Conference Objectives:
1) Learn – An opportunity to learn about best practices that can be integrated into OST programming
2) Network – Network with others in the field and strengthen relationships across programs
3) Equip – Provide valuable tools, resources and experiences that equip OST providers with essential information that will help improve daily interactions with youth in an OST setting.
Sessions Include:
Preventing Burnout with Mental Resilience Superpowers - Susan Comfort, Nonprofit Wellness
Identify how multiple layers of oppression affect mental health.
Learn the latest brain science related to stress and how we manage the "safe and social" state of our nervous systems.
Engage in new skills (mindfulness, stretching, activities that challenge comfort zones) that participants can take back to their programs.
Developing Student Voice Through Debate - David Trigaux, Washington Urban Debate League
Highlight how to integrate high quality debate programs into existing instruction, and review resource(s) available for instructors.
Discuss the ways debate develops skills and confidence for students.
Leveraging Engagement through Inquiry-Based Instruction - Jessica Kesler, TGR Foundation: A Tiger Woods Charity
Learn how to leverage engagement using an inquiry based activity that can be customized to your class needs.
Understand how using an inquiry mindset to build discovery-based lessons with strong content objectives, lead to both high engagement and a connection to higher learning.
Describe the different types of engagement and inquiry, identify key inquiry elements in model activities, and plan for how they can incorporate inquiry into their learning environments.
Social Media to Nonprofit Organizations - Chrisitan Benjamin, StoryMKTG
Learn the importance of having engaging social media campaigns, grow awareness for initiatives.
Create unique and consistent content to be highlighted on their social media pages.
Empowering Youth within Behavioral Health Services and Beyond - Leslie-Ann Byam, Department of Behavioral Health
Identify three ways to infuse youth voice into an organization.
Understand at least two key processes for ensuring young adults feel supported in engaging with behavioral health services.
Identify the primary reasons to tailor behavioral health services for youth.
The Power You Carry: How to Become A Brain Builder - Michael Lamb, Turnaround for Children
Using real-world examples that are grounded in the science of learning and development, with a particular lens on the impact of adversity, this session will offer strategies to build safe, supportive learning environments, filled with positive relationships where all children can develop the skills and mindsets they need to thrive. Participants will draw on their own experiences and take new practices into their own work.
Space is limited. Register today!
---
June 7, 2019 - Summer 2019 Learn24 Network Conference
This one-day conference provided youth development workers with essential tools and skills to deliver quality out-of-school-time (OST) experiences for youth across the District of Columbia. Attendees were able to connect with other youth-based-providers and hear valuable information on best practices, evidence-based research, innovative ideas and more.
Keynote speaker Marcia Tate serves as an educational consultant and has taught more than 450,000 administrators, teachers, and parents, as well as community and business leaders, across the globe. Conference attendees will learn best practices, innovative strategies, lessons learned and more to help improve outcomes beyond the school day for District of Columbia youth.
Handouts and Presentations may be downloaded below.