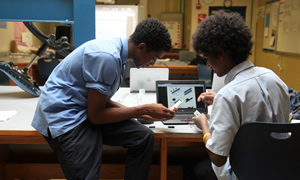 The Institute for Youth Development provides quality training for all adults who work with children and youth in Out of School Time (OST) programs. These adults are also called youth development practitioners. Youth development practitioners deepen their understanding of positive youth development, engage in best practices and improve services to youth.
Trainings are available for every level from front-line staff to program managers to executive directors. Download the training descriptions below.
Save the Date: June 7, 2019 - Summer 2019 Learn24 Network Conference
Join the Institute for Youth Development on Friday, June 7, 2019 for the Summer 2019 Learn24 Network Conference. This one-day conference will excite, engage, and prepare youth development workers with essential tools and skills to deliver quality out-of-school-time (OST) experiences for youth throughout the District. More details coming soon!

Youth Voice - March 26, 2019
Workshop Description:
The Institute for Youth Development will host a two-hour workshop on the importance of Youth Voice in a program. This interactive and hands-on workshop will provide participants with practical skills that are geared to improve the quality of interactions with youth.
Act now, limited seats remain!
Learn24 First Friday Learning Series: Introduction to Advancing Youth Development - April 5, 2019
Workshop Description:
As young people seek ways to meet their basic physical and social needs, build the capacities necessary to succeed in adolescents and adulthood, youth workers need the necessary tools to better engage and support youth in their development.
Goal of Session: In this two-hour session, youth workers are introduced to the basic concepts and assertions of youth development and will recognize youth development principles and practices.
Objectives:
Participants will be able to articulate their own experiences with youth development and relate these to their current youth development practices.

Participants will be able to discuss their roles, goals, and youth development approach.

Participants will be able to give both the conceptual and practical definitions of youth development.
Register Here!
Cypherworx
Need training on your own time and pace. Through a partnership with Cypherworx, Learn24 has an online platform for learning. Click here to register and sign-up.
Contact: We encourage all to Learn24! Email us for more information.