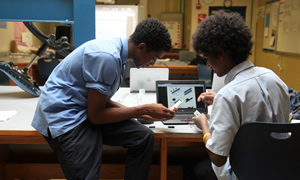 The Institute for Youth Development provides quality training for all adults who work with children and youth in Out of School Time (OST) programs. These adults are also called youth development practitioners. Youth development practitioners deepen their understanding of positive youth development, engage in best practices and improve services to youth.
Trainings are available for every level from front-line staff to program managers to executive directors. Download the training descriptions below.
Learn24 Network Conference: Preparing Youth for College, Career, and Life on June 22, 2018
The conference will bring together practitioners, capacity builders, and other stakeholders in the field of youth development to share best practices, learn about the Institute and gain knowledge and skills necessary to provide successful summer programming. The conference will offer a track for United Way of the National Capital Area (NCA) Summer grantees, a program management track, and youth development track.
The lunch keynote speaker is Karen J. Pittman, President and CEO, Forum for Youth Investment, a national nonprofit, nonpartisan "action tank" that combines thought leadership on youth development, youth policy, cross-system/cross-sector partnerships and developmental youth practice with on-the-ground training, technical assistance and support. Karen is a respected sociologist and leader in youth development. Prior to co-founding the Forum in 1998, she launched adolescent pregnancy prevention initiatives at the Children's Defense Fund, started the Center for Youth Development and Policy Research, and served as senior vice president at the International Youth Foundation. Download all the presentation below.
Learn24 Workshops
Find and register for Learn24 training opportunities throughout the year on Eventbrite by clicking here.
Cypherworx
Need training on your own time and pace. Through a partnership with Cypherworx, Learn24 has an online platform for learning. Click here to register and sign-up.
Contact: We encourage all to Learn24! Email us for more information.