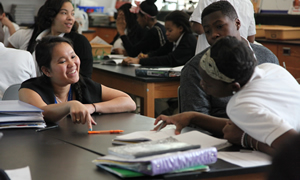 Parents want to select quality programs and opportunities for their child. Youth want to attend quality programs that engage them as decision makers and leaders. The National Afterschool Association identifies quality programs as those that:
Foster positive relationships between program participants and staff,
Build positive relationships among program participants,
Offer a blend of academic and developmental skill-building activities,
Promote high levels of student engagement,
Maintain an orientation toward mastery of knowledge and skills, and
Provide appropriate levels of structure as well as opportunities for autonomy and choice.
Programs can improve their quality by participating in quality assessments and ensuring that all staff has access to quality professional development.
The Institute for Youth Development at the University of the District of Columbia is the professional development division of The Office of Out of School Time Grants and Youth Outcomes. The Institute for Youth Development supports quality programs through the Program Quality Intervention (PQI) and offering quality professional development opportunities.

List your afterschool or summer program in the Learn24 program finder by completing this brief form. Help families and youth find your OST program!