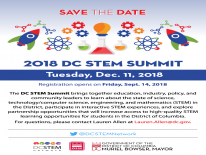 Last Date:
Location:
801 Mt Vernon Pl NW, Washington, DC 20001
Building:
Walter E. Washington Convention Center
Details:
The DC STEM Network unites community partners to help inspire and prepare all DC youth to succeed, lead and innovate in science, technology, engineering, and mathematics (STEM) fields and beyond. The Network is led collectively by representatives of the local pre-K through grade 12 and higher education landscape, community organizations, employers, and STEM institutions. Together, these individuals and organizations work to address STEM in schools, during out-of-school time, and with professional development, work-based learning, mentoring and volunteering, and STEM events.
Each year the DC STEM Network, together with OSSE, hosts a STEM Summit which brings together education, industry, policy, and community leaders to learn about the state of STEM in the District, participate in interactive STEM experiences, and explore partnership opportunities that will increase access to high-quality STEM learning opportunities for students in the District of Columbia. The 2018 DC STEM Summit, "Engage and Elevate," will be held on Tues., Dec. 11, 2018.
https://www.dcstemnetwork.org/stem-in-dc/stem-summit-2018/